"I am inscribed on His hands, and that changes everything."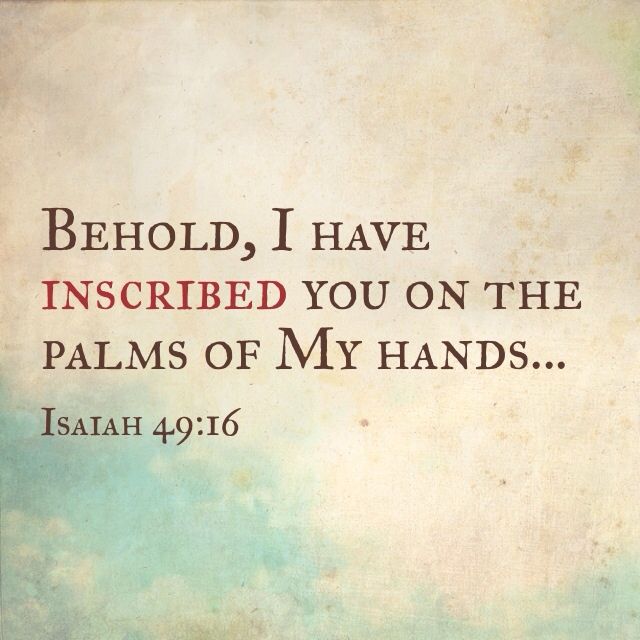 One month ago, I started the new year off with my OneWord Resolution:
inscribed
. I dove into learning about the God who loves me enough to inscribe me on His hands (Isaiah 49:16). I expected an impact. I was ready for big things. I wasn't ready for this.
Leave it God to turn this whole thing upside down.
I'm reading through the Bible this year, so on January 1, I started out in Genesis, and there it was, in the very beginning. It didn't take long for God's perfect creation to fail miserably. Sin entered the world, and mankind was destined to carry the scars for all generations to come. Then I came to this:

Genesis 3:15 (NASB) 
And I will put enmity Between you and the woman, And between your seed and her seed; He shall bruise you on the head, And you shall bruise him on the heel."
From the beginning, from the very first sin, God knew what it would take to save us. We were already inscribed, because Jesus was willing to pay the price for us. In His eyes, we were worth saving.
Jump ahead with me, to week four of my Bible reading. This time I was in Matthew, reading about Jesus' crucifixion. He suffered. He gave His life willingly - for me. For all of us. He could have stopped it all, but He didn't. That day, as He hung on that cross, He inscribed me on His hands. The veil in the temple - the physical barricade that separated people from God's presence - was torn in two when He died.
When Jesus died, our separation from God died, too.
He didn't just write my name on His hands, where it could be erased, wiped away, and forgotten. He
engraved
my name on His hands - He
inscribed
it - He
carved
it into His hands. He will never forget me.
He gave me everything. I can never repay the debt He forgave. How dare I think this whole thing is about me?

I thought this journey, this focus on "inscribed," would be about His love for me. It is, in part. But in more ways, it's about my love for Him, and how His love changes me. It leaves me speechless. Overwhelmed. Humbled.
I am inscribed, and that changes everything.